U.S. Merchant Ships Sunk or Damaged in World War II
According to the War Shipping Administration, the U.S. Merchant Marine suffered the highest rate of casualties of any service in World War II. Officially, a total of 1,554 ships were sunk due to war conditions, including 733 ships of over 1,000 gross tons. Hundreds of other ships were damaged by torpedoes, shelling, bombs, kamikazes, mines, etc. Foreign flag ships, especially those with Naval Armed Guard on board as well as ships belonging to U.S. territories such as the Philippines, are included in this list.
The following lists are continually under construction, because no official complete list is available. Our present total is 1,768 ships sunk, damaged, captured or detained.
We appreciate your additions and corrections.
The listings include:
Name of Ship by full name including initials [Charles W. Eliot is found under "C"]
Location of incident:
Alaska 48 ships
Approach Med (Atlantic Ocean near Gibraltar) 29 ships
Caribbean 180 ships
Eastcoast (Atlantic coast of U.S.) 175 ships
Gulf of Mexico 46 ships
Indian-Red Sea (Indian Ocean - Red Sea) 49 ships
Med-Black Sea (Mediterranean and Black Sea) 251 ships
Murmansk Run 85 ships
Normandy 69 ships
NE Atlantic (Northeast Atlantic includes ports in Great Britain, Belgium, etc.) 155 ships
N Atlantic (North Atlantic) 168 ships
Okinawa 30 ships
Pacific includes Hong Kong and Shanghai 130 ships
Philippines 128 ships
S Atlantic (South Atlantic) 69 ships
Westcoast (Pacific coast of U.S.) 27 ships
Region unknown 92 ships
Cause - mine, torpedo, etc.
Outcome - sunk, damaged, total loss --which means not worth salvaging)
Date - dates sometimes vary by several days between sources
Type of ship freighter, tanker, Liberty; flag of ship if other than U.S. [We include U.S. owned and U.S. chartered ships, most of which had U.S. Navy Armed Guard aboard. Because of the Neutrality Act, U.S. government ordered many ships reflagged. The War Shipping Administration owned Panamanian flag ships.The Philippines were a U. S. territory and flew the U. S. flag.]
Casualties - Deaths of crew, Naval Armed Guard, and passengers or Prisoners of War (POW)
GSA - Gallant Ship Award
---
You can view the list in any of 3 ways:
Chronological list of U.S. ships sunk or damaged:
Geographical list of U.S. ships sunk or damaged:
Alphabetical list of U.S. ships sunk or damaged
[Graphs below are not current, but still based on our lists of 2001]
U.S. ships sunk or damaged during 1939 to 1950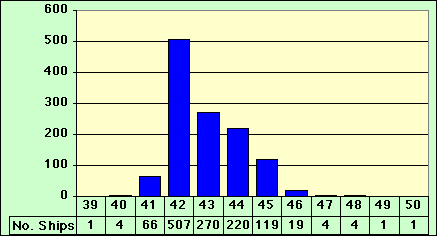 Number of U.S. ships sunk or damaged 1941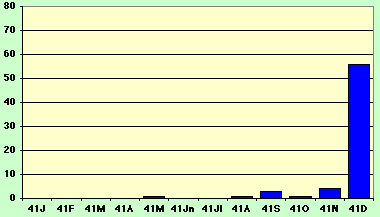 Number of U.S. ships sunk or damaged 1942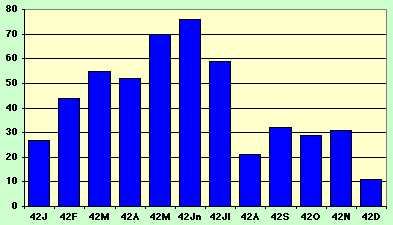 Number of U.S. ships sunk or damaged 1943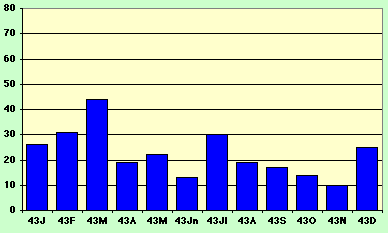 Number of U.S. ships sunk or damaged 1944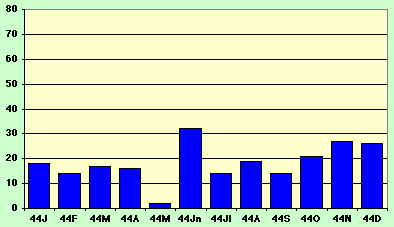 Number of U.S. ships sunk or damaged 1945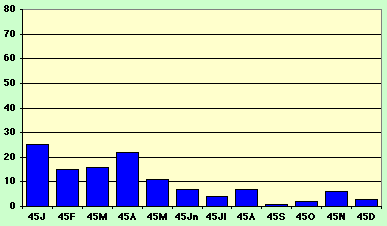 Number of U.S. ships sunk or damaged 1946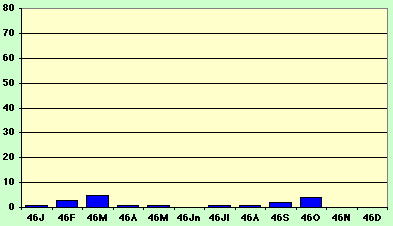 Number of U.S. ships sunk or damaged by region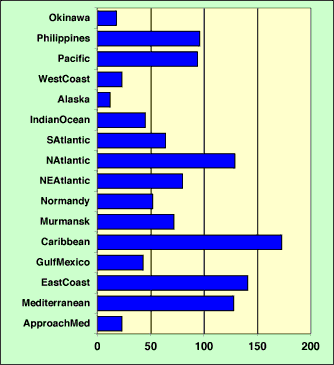 These lists are based on the following sources:
A Careless Word - A Needless Sinking: A History of the Staggering Losses Suffered by the U.S. Merchant Marine, both in Ships and Personnel, during World War II, Captain Arthur R. Moore, American Merchant Marine Museum, Kings Point, NY: 1998
U.S. Merchant Vessel War Casualties of World War II, Robert M. Browning, Annapolis: Naval Institute Press, 1996
Most Dangerous Sea - A history of Mine Warfare, and an Account of U.S. Navy Mine Warfare Operations in World War II and Korea, Arnold S. Lott, Annapolis, Maryland: U.S. Naval Institute, 1959
The World's Merchant Fleets 1939: The Particulars and Wartime Fates of 6,000 Ships, Roger Jordan, Annapolis, Maryland: Naval Institute Press, 1999
Ships of the Esso Fleet in World War II, Standard Oil Co. of New Jersey, 1946
The Years of Peril, Cdr. Arthur Gordon, New York: Socony-Vacuum Oil Co. (Mobil Shipping and Transportation Company), 1954, 1994
Press Release PR 2293 (W) June 13, 1945, War Shipping Administration, Washington DC
New York Times 1939-1950
Washington Post 1939-1950
Christian Science Monitor 1939-1950
Los Angeles Times 1939-1950
Chicago Tribune 1939-1950
Hitler's U-Boat War: The Hunters, 1939-1942, Clay Blair, New York: Random House, 1996
Hitler's U-Boat War: The Hunted. 1942-1945, Clay Blair, New York: Random House, 1998
Advance Force Pearl Harbor: The Imperial Navy's Underwater Assault on America, Burl Burlingame, Kailua, Hawaii: Pacific Monograph, 1992
Silent Siege: Japanese attacks against North America in World War II, BertWebber, Fairfield, Washington: Ye Galleon Press, 1984
Battle Report (The Atlantic War), Cdr. Walter Karig, New York: Farrar & Rinehart, 1946
The Last Voyage of the Henry Bacon, Donald R. Foxvog and Robert I. Alotta, St. Paul, MN: Paragon House, 2001
The Last Voyage, Maritime Heroes of World War II, Leonard E. Amborski, Orlando FL: FirstPublish, 2001
Civil and Merchant Vessel Encounters with United States Navy Ships, 1800-200, Greg H. Williams, Jefferson NC: McFarland & Company, 2002
The Official Chronology of the U. S. Navy in World War II, Robert J. Cressman, Annapolis, Maryland: Naval Institute Press, 2000
Over Seas: U. S. Army Maritime Operations, 1898 Through the Fall of the Philippines, Charles Dana Gibson with E. Kay Gibson, Camden, ME: Ensign Press, PO Box 638, Camden, ME 04843, 2002
The World's Merchant Fleets 1939: The Particulars and Wartime Fates of 6,000 Ships, Roger Jordan, Annapolis, Maryland: Naval Institute Press, 1999
Merchant Ships 1949-1950, E. C. Talbot-Booth, New York: McGraw-Hill Book company, Inc., 1949
Shipwrecks off Alaska's Coast, State of Alaska website
Navy History.com USS Achernar
The Liberty Ships; The history of the"emergency" type cargo ships constructed in the United States during World War II, L. A. Sawyer and W. H. Mitchell, Cambridge, Maryland: Cornell Maritime Press, 1970
Victory Ships and Tankers; the history of the "Victory" type cargo ships and of the tankers built in the United States of America during World War II, L. A. Sawyer and W. H. Mitchell. Cambridge, Maryland: Cornell Maritime Press, 1974
History of U.S. Naval Operations in World War II, Vol. I to XV, Samuel Eliot Morison, Boston: Little, Brown and Company, 1947- 1962
Sacred Warriors, Denis Warner, Peggy Warner, and Sadao Seno, New York, NY: Van Nostrand, 1982 [courtesy Lewis Clanton]
U. S. Navy Casualty list of WWII, compiled by Capt. Stansel E. DeFoe, courtesy Tom Bowerman, U. S. Navy Armed Guard Veterans www.armed-guard.com
Underbrink Robert. Destination Corregidor. Annapolis, Maryland: United States Naval Institute, 1971
Personal correspondence
Rohwer, Jurgen. Axis Submarine Successes of World War Two. (Revised and expanded) U.S. Annapolis, Maryland: Naval Institute Press, 1999
Battle Surface: Japan's Submarine War against Australia 1942 - 44, Jenkins, David, Random House Australia, 1992

Home
Ships
Merchant Mariners Killed
U.S. Navy Armed Guard Killed or Wounded
Murmansk Ships
Struggle for Veteran Status
Merchant Marine in World War II
U.S. Navy Ship Losses during WWII

01/21/04

www.USMM.org ©1998 - 2007. You may quote material on this web page as long as you cite American Merchant Marine at War, www.usmm.org, as the source. You may not use more than a few lines without permission. If you see substantial portions of this page on the Internet or in published material please notify usmm.org @ comcast.net